The fruit of the trees shall be for meat,and the leaf there of for medicine.
Ezekiel 47:12
The old Indian teaching was that is is wrong to tear loose from its place on the earth anything that may be growing there.
It may be cut off, but it should not be uprooted.
The trees and the grass have spirits.
Whenever one of such growth may be destroyed by some good Indian, his act is done in sadness and with a prayer for forgiveness because of his necessities...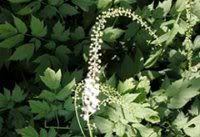 "Herb of the Month"
"Black Cohosh";scientific name:Cimicifuga racemosa;Plant Family:Ranunculaceae
A Dr.Young first introduced Black Cohosh to the Medical world in 1831,but the Native Americans had been using it for hundreds of years prior to that.
A member of the Ranunculaceae family, Black Cohosh spans up to three feet and can reach a height of eight feet when it flowers, in late spring to early summer. Its leaves have toothed margins and are divided into three lobed leaflets. Its foliage is lush, and its attractive flowers are cream-colored and fragrant.
Roots and rhizomes are thick, knotty and very dark. Black Cohosh is native to the eastern woodlands of North America and ranges from southern Canada south to Georgia, across to Arkansas and up to Wisconsin.
It's more abundant in its southern range. Black Cohosh is one of 15 species of Cimicifuga found worldwide.
By 1912,Black Cohosh was one of the most frequently prescribed herbs by American physicians.As synthetic medicines were developed during the 20'th century,Doctors turned away from the use of Black Cohosh,as they did with most other medicinal herbs as well.But now,it's time to turn back to this wonderful herb.
Other more common names for this herb are: RattleRoot,SquawRoot,SnakeRoot,and Black SnakeRoot.As the common names suggest,this herb was often used by the Native Americans as a remedy for snakebite,as well as for women's female problems.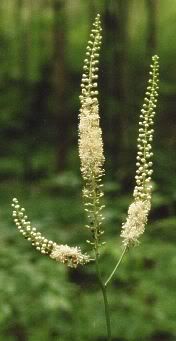 How does it work,why does it work?Black Cohosh contains estrogenic sterols and glycosides,and a host of micronutrients.Black Cohosh has a most powerful effect as a relaxant and normalizer of the female reproductive system.
It may be used beneficially in cases of painful or delayed menstruation,ovarian cramps,or cramping pain in the womb.It has a normalizing effect on the balance of the female sex organs and may be used safely to regain normal hormonal activity.It has been used quite effectly for women going through Menopause.It is a safe and comfortable alternative for women who don't feel safe with hormonal therapy.
It also seems to help balance a woman's moods when going through Menstration or Menopause.In addition,it may be used safely in cases of Premature or False Labor.
It is very active in the treatment of rheumatic pain,arthritis,muscular,and neurological pain.It finds use in Sciatica and Neuralgia.
As a relaxing Nervine it may be used in many situations where such an agent is needed.It is useful in labor to aide uterine activity whilst at the same time,calming nervousness.
Black Cohosh will reduce spasms and aides in the treatment of pulmonary complaints,such as Whooping Cough.It has also been found to be beneficial in cases of Tinnitus.
People with hormone-sensitive conditions, such as cancer of the breast, prostate, ovaries or uterus, endometriosis or uterine fibroids, should avoid black cohosh until more is known about how it works and whether it has a hormonal effect.
Side effects of black cohosh may include:
* Indigestion
* Headache
* Nausea
* Perspiration
* Vomiting
* Heaviness in the legs
* Weight gain
* Low blood pressure
Excessive doses of black cohosh may cause seizures, visual disturbances and slow or irregular heartbeat. There have been a number of cases of liver damage suspected to be associated with black cohosh use. In most of the cases, there were other medical problems present and other medications used that may have contributed to the liver damage. Also, the quality and purity of the black cohosh products used isn't known. Some black cohosh products, for instance, have been found to contain a Chinese cimicifuga (Cimicifuga foetida) instead of black cohosh.
Still, in August 2006, Health Canada advised consumers of the possible link between black cohosh and liver damage. In June 2007, the United States Pharmacopeia proposed that black cohosh product labels contain a cautionary statement. The American Botanical Council has countered that there is insufficient evidence to warrant the proposed caution.
Black cohosh should not be confused with the herb blue cohosh (Caulophyllum thalictroides), white cohosh, bugbane, Cimicifuga foetida, sheng ma or white baneberry. These species have different effects, and blue cohosh and white cohosh, in particular, can be toxic. There is a case report of neurological complications in a post-term baby after labor induction with a herbal blend of black cohosh and blue cohosh.
People with allergies to plants in the buttercup (Ranunculaceae) family should avoid black cohosh.
Black cohosh contains small amounts of salicylic acid, so people with allergies to aspirin or salicylates should avoid black cohosh.
People with a history of blood clots or stroke, seizures, liver disease and those who are taking medications for high blood pressure should not use black cohosh.
Possible Drug Interactions
Because it may act like the hormone estrogen in the body, black cohosh could interfere with hormone replacement therapy or oral contraceptives.
Black cohosh may interfere with the effectiveness of the chemotherapy drug cisplatin.
Theoretically, black cohosh may interfere with the effectiveness of hormone replacement therapy or oral contraceptives.